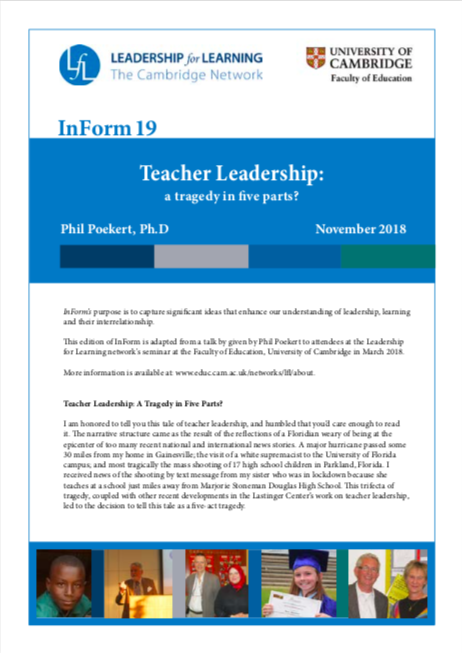 InForm is a series of papers whose purpose is to capture significant ideas and events that enhance our understanding of leadership, learning and their inter-relationship. They offer reflections on recent seminars, policy papers and emerging issues nationally and internationally and attempt to capture the implication for policy and practice in leading the learning of students, teachers and of those who exercise a leadership role in classrooms, schools and communities.
Teacher Leadership: a tragedy in five parts? No. 19 (November, 2018) Phil Poekert Download or read online.
Flattening the Hierarchy: the role of student agency in school improvement, No. 18 (December, 2017) Stephanie Hill Download or read online.
LfL Travels, No. 17 (October 2014)
Edited by Sue Swaffield, Neil Dempster, David Frost & John MacBeath
Download or read online.
Reflections on developing as an educational leader and manager, No. 16 (July 2014)
Megan Crawford
Download or read online.
Sustaining Teachers' Professional Growth, No. 15 (May 2013)
David Frost, John MacBeath and Sue Swaffield
Download or read online.

The Children's University, No. 14 (October 2012)
John MacBeath
Download or read online.

LfL Ghana: Systemic Bottom-up Top-down Change, No. 13 (April 2012)
Stephen Jull, Sue Swaffield and John MacBeath
Download or read online.

The International Teacher Leadership project, No. 12 (November 2011)
David Frost
Download or read online.
Also available in: Albanian, Arabic, Croatian, Greek, Romanian, Russian, Serbian, Spanish and Turkish versions.

Professor Jonathan Jansen: questions and reflections, No. 11 (June 2011)
Download or read online.

A Game Changing Summit: The International Summit on the Teaching Profession, No. 10 (April 2011)
John Bangs
Download or read online.

The Importance of Teaching' An analysis of the Government's White Paper, No. 9 (December 2010)
John Bangs
Download or read online.

The Legacy of the Carpe Vitam Leadership for Learning project, No. 8 (February 2008)
David Frost, John MacBeath, Sue Swaffield and Joanne Waterhouse
Download or read online.

School Facing Exceptionally Challenging Circumstances: A summary of the project evaluation, No. 7 (March 2007)
John MacBeath and Sue Swaffield
Download

Teachers Behaving Badly? Dilemmas for School Leaders, No. 6 (September 2006)
Kate Myers
Download

A New Relationship with Schools: Inspection and Evaluation, No. 5 (September 2005)
John MacBeath
Download

What Can Headteachers Do to Support Teachers' Leadership?, No. 4 (August 2004)
David Frost
Download

Critical Friendship, No. 3 (October 2003)
Sue Swaffield with a contribution by John Jones
Download

The Alphabet Soup of Leadership, No. 2 (January 2003)
John MacBeath
Download
PISA 2000, No. 1 (June 2002)
Raphael Wilkins and John MacBeath
Not available to download.
If you're keen to get hold of a copy of the first InForm, please email lfl@educ.cam.ac.uk