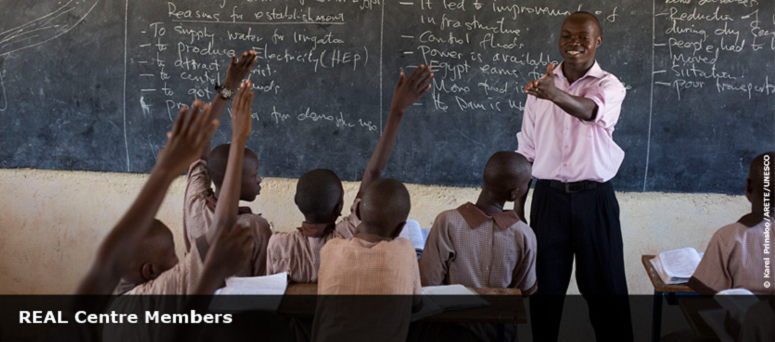 REAL Centre members
---
Faculty Members
---
Professor Pauline Rose
REAL Centre Director. Measuring and addressing inequalities in education access and learning; teacher quality; non-state provision, financing. Pauline Rose full profile
---
Dr Rob Gruijters
Family background and educational outcomes; Long-term trends in educational inequality; Private schools; Life course trajectories and economic inequality; Quantitative methods; China; Sub-Saharan Africa. Rob Gruitjers full profile
---
Dr Sonia Ilie
Educational access and learning inequalities in relation to socio-economic deprivation; widening participation and learning in higher education; evaluation; quantitative research methods. Sonia Ilie full profile
---
Dr Zoe James
Trends and inequalities in educational access and learning; education policy; language of instruction; non-state providers; mixed methods; quantitative methods. Zoe James full profile
---
Professor Ricardo Sabates
Access to education; social benefits of education in international contexts; inequalities in education; quantitative impact evaluations in education. Ricardo Sabates full profile
---
Professor Nidhi Singal
Disability, poverty and education; teaching and learning processes in mainstream classrooms; student outcomes in inclusive settings; ethics in educational research in Southern contexts. Nidhi Singal full profile
---
REAL Centre Research Assistants and Associates
---
Dr Mesele Araya
Access to early childhood education; Inequality of learning outcomes; Educational intervention programs - school grants and/or feeding; Impact monitoring and evaluation - mixed methods. Mesele Araya full profile
---
Dr Emma Carter
Psychology of education; accelerated learning; education in sub-Saharan Africa; educational evaluation; quantitative and qualitative research methods. Emma Carter full profile
---
Dr Luisa Ciampi
Gender; education; policy; communication; social change; interdisciplinary research; participatory research; knowledge transfer; climate resilience; social protection; teaching. Luisa Ciampi full profile
---
Nurullah Eryilmaz
Educational inequality; socioeconomic status; student outcomes; international large-scale assessments (ILSAs); comparative education; sociological theory; psychometric analysis; advanced quantitative methods. Nurullah Eryilmaz full profile
---
Daniel Hawkins Iddrisu
Disadvantaged students and higher education; inclusive, disability and higher education; crisis impact on disadvantaged learners; educational sociology; poverty, inequality and education; access, participation, and experiences of higher education; early childhood development; qualitative; and mixed methods.

---
Dr Konstantina Maragkou
Economics of education; educational choices and outcomes; equality of opportunity in education, widening university participation; quantitative research method; evaluation. Konstantina Maragkou full profile
---
Dr Laraib Niaz
Inclusive education; disability; girls' education; role of religion in classrooms; construction of the self and other; qualitative and quantitative methods.
---
Dr Tony Onwuegbuzie
Dr Tony Onwuegbuzie: Disadvantaged and under-served populations; educational achievement ; qualitative, quantitative and mixed methodologies, program evaluation, teacher education, educational psychology, social psychology. Tony Onwuegbuzie full Profile
---
Dr Dawit Tibebu Tiruneh
Instructional design; systematic design of learning environments; 21st century skills; development and validation of instruments; quantitative research methods; Ethiopian General Education. Dawit Tibebu Tiruneh full profile
---
Dr Eunice Mueni Williams
Exploring the effects of women empowerment in education outcomes; gender inequality in education access; promoting use of evidence in decision-making and policy development in sub-Saharan Africa.
---
Dr Louise Yorke
Educational access and equity, social and cultural factors influencing educational pathways, the gendered experiences and trajectories of girls and young women, and school-to-work transitions. Louise Yorke full profile
---
Faculty Affiliate Members
---
Emeritus Professor Madeleine Arnot
Sociology of education; gender; citizenship studies; migration. Madeleine Arnot full profile
---
Dr Hilary Cremin
Education and peacebuilding; responding constructively to conflict; truth and reconciliation processes; restorative justice. Hilary Cremin full profile
---
Dr Sara Hennessy
Improving quality of teaching and learning through professional development and digital technology use, especially mobile technologies; increasing participation in learning through classroom dialogue, reasoning and collaborative working. Sara Hennessy full profile
---
Dr Elizabeth (Liz) Maber
Teaching and research explores the relationship between education, social justice and building peace in international contexts particularly in relation to gender and intersectional experiences of social inequalities. Elizabeth Maber full profile
---
REAL Centre Project Support and Communications Team
---
Sandra Baxter
Research uptake, knowledge management, learning processes, communications, international education and development